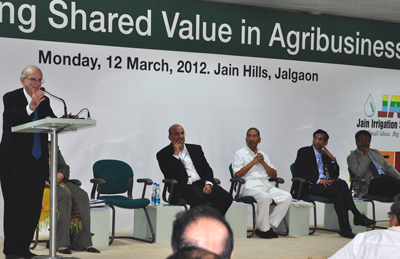 Former Dean of Harvard Dr. Ray Goldberg, Harvard Dean Dr. Nitin Noharia, Bhavarlalji Jain,
Dr. Kasturi Rangan and the Agricultural Advisor to the Planning Commission V. V. Sadamate are seen
guiding the first session of international Agricultural Workshop.
Unified Pvt. sector Govt. effort must for betterment of Agriculture : Bhavarlalji Jain
Jalgaon, March 12, 2012 (Our Reporter): Though the ultimate object of any business is to earn profit, the situation is not such that capitalism born out of it will remain the same. Our customer is farmer and it is necessary for us to understand his needs so that industry active in agricultural sector (Food Processing Industry) can prosper in the near future, said the Founder Chairman of Jain Irrigation Systems Ltd. Bhavarlalji Jain. He was speaking at the first session of the one–day international conference jointly organized by Jain Irrigation and Enterprise Solutions to Poverty (USA) on the subject of " farmers progress through agriculture profession." Harvard Business school′s Dean Mr. Nitin Noharia, world famous Management Consultant Dr. Ray Goldberg, Agricultural Consultant to the Planning Commission V. V. Sadamate and Ms. Nancy Berry were present on this occasion. All major Chiefs and Heads of the most of companies working in the agricultural sector this spectacular workshop held in India for the first time. This one–day discussion of the Heads of major agricultural companies was fruitful as they approved the action plan and also declared their intention to work towards achieving that plan.
" The most powerful thing in the world is the inspiration. I am inspired by this world scale work of Jain Irrigation in the agriculture. " said the Dean of Harvard Business School Dr. Nitin Noharia. Water has invaluable place in all the natural resources and Jain Irrigation has done the pioneering work to save water, he elaborated. The Jain Irrigation model is an ideal one in the world from the point of view of agriculture and ecology, Dr. Ray Goldberg said, adding that give and take of experiences is necessary for any new creation. Dr. Kasturi Rangan and Ms. Anjali Raina also expressed their thoughts on this matter.
All participants in this seminar agreed that the co–ordination with farmers is essential along with earning their trust as well as joint implementation of the different alternatives uniformly agreed on. Indian agriculture can be given a new direction. It was agreed to increase the quality of service and facilities provided by companies in the agriculture sector, use less water, increase productivity through efficient use of natural resources, setting up pilot projects for each crop, purchasing the crops, a Produced by farmers to support them and give fillip to increase the capacity of private entrepreneur′s and co–operative institutions. It was also deemed necessary to create an easy finance plan for the agricultural sector, the crop insurance scheme considering the several challenges faced by farmers. All participants in the workshop also agreed upon the creation of alternative security plans.
This workshop also decided to give more stress on the extension of agricultural education and training considering the competitive process in the private sector, to assist industries complementary to the agricultural products/crops. It was also deemed necessary to attract the new generation to agriculture, increase professional attitude among farmers, and increase the co–ordination between customers, financial institutions and farmers. Adi Godrej of Godrej Industrial Group, R.S. Sodi of Amul India, George Rebin of Bayer, Vimal Shah of Bidco Patrick Yaduga of Hindustan Coca–Cola, S. Shivkumar of ITC, Ashok Chand of KRBL, Shirish Barvale of Mahyco, Vikram Puri and Sham vember of Mahindra, Amitabh Jaipuria of Monsanto, Nagrajan Shivram Krishanan, Uday Singh of Namdhari Seeds, Nandkishor Kagalia of Nath Seeds, Antonio Wazick of Nestle India, Ramesh Vishwanathan of Nazividu seeds, Sanjay Sancheti of Olam, Jaideep Bhatia of Pepsi, Umesh Mehendale of Rallis, Amit Agriwal, Prakash Apte and Mark Feroni of Sinzanta, and D.K. Sunder of Tata Chemicals attended this first International Conference. Along with them, several heads of important banking institutions like. EXIM Bank, HDFC, YES Bank, ICICI Bank, J&K Bank, NABARD and SBI took part in this unique seminar.
Progressive farmers from India were also present at this world scale workshop. Among them Bharat Patel from Gujrat, wheat farmer from Haryana Gurumit Singh, Shekhar Bhadsavale from Maharashtra, vasant Mahajan from Maharashtra, and Banana farmers from Tamil Nadu K.N. Selva Kumar also participated in the Seminar and they expressed their opinions and thoughts.