Symposium on Water Security for sustained Agriculture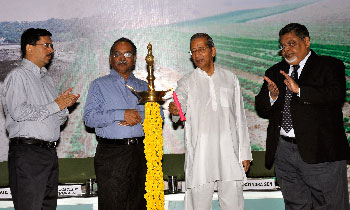 Jalgoan, 28 November 2012: "An economically sound business model under the public-private partnership (PPP) mode will ensure water security thus paving way sustainable food security. Maharashtra government would fully back up this initiative," said Dr. Sudhir Kumar Goel, Additional Chief Secretary, Department of Agriculture and Marketing, Government of Maharashtra.
In his keynote address at the inauguration of the two-day symposium on "Water Security for Sustained Agriculture" organized by the Bombay Chamber of Commerce and Industry (BCCI) and Jain Irrigation Systems Limited (JISL) here today, Dr. Goel said that the government had plans to spend about Rs. 2750 crores (roughly US $ 500 million)in the next five years for encouraging such initiatives. It would be a meaningful end-to-end project, according to him.
Dwelling on the importance of water security, Dr, Goel described it as a holistic approach and it should ensure that each drop would not only yield more crop, but also bring in more income to the farms. "It can be an economically sustainable model and it need not depend on any governmental support," he pointed out.
Mr. Bhavarlal H. Jain, Founder-Chairman, JISL, inaugurating the symposium, said that water was the lifeline of agriculture, and water security was a pressing issue in rainfed agriculture. He cited several examples of wasteful use of water in our daily life as also in agriculture., and blamed the society for treating this precious resource casually. He busted the myth that water was not available in many places. "There is enough water for everyone all the time, but we should only learn how to save and use it efficiently," he advised.
Highly disturbed by the grim current water crisis in different parts of Maharashtra, Mr. Jain pointed out that the "business-as-usual" approach in dealing with water would only aggravate the situation. He called for collective and concerted action to conserve water and follow a rigorous economy in its usage. He fervently appealed to all to adopt an integrated holistic means while addressing water security issues, which have direct bearing on the food security.
Earlier Mr. Anil Jain, Chairman, Agricultural Committee of BCCI and Managing Director of JISL, in his welcome address, introduced the theme of the symposium. Highlighting the pioneering role played by JISL in introducing water saving techniques coupled with an array of advanced micro-irrigation system to increase crop productivity and farm income, Mr. Jain said that there had been some awareness among the farmers about the novel methods in water management, but they need to still go a long way. Dr. Atindra Sen, Managing Director of BCCI proposed a vote of thanks.
More than hundred delegates including scores of progressive farmers, policy-makers, technocrats, scientists and representatives of international developmental organizations attended the symposium. The participants also visited some farms that have adopted the modern water management practices powered by solar energy.
In the technical session, that followed, detailed presentations on key topics such as governance of water and food security, water use efficiency of green and blue water in agriculture, matrix of water-food-energy nexus and water resource management- policies, economics and conflicts in water usage in agriculture were made by experts.
In the group discussions and in the plenary session the delegates discussed some important issues such as pricing water, the use of grey water and recycling treated waste water and the need for harvesting the rain where it falls. Success stories of field-level demonstration of water harvesting using simple techniques were also presented. (EOM)