Strengthening the relations between Israel and India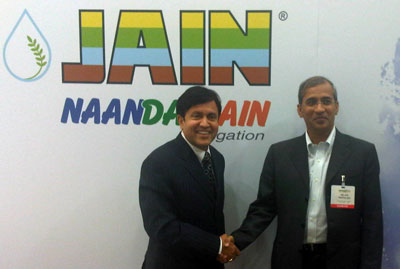 TEL AVIV - MUMBAI, 15 MAY 2012
JAIN Irrigation Systems Ltd (Mumbai, India) and TALIS Management Holdings GMBH (Rodgau, Germany) today jointly announce a global strategic cooperation to bundle TALIS products as part of JAIN product offerings.
JAIN a diversified global irrigation and pipes company headquartered in Jalgon, India and Talis Group a leading European design and manufacturer of Valves and Fittings intend to strengthen their business relationship by offering integrated irrigation and water infrastructure solutions worldwide.
Ajit Jain, Managing Director and Board member of JAIN Irrigation said: "This Strategic Cooperation is a real milestone for our company. The cooperation with TALIS fits with our overall growth strategy and by this cooperation we boost our offerings by integrating high technology Hydraulic Control Valves, Butterfly valves, Gate Valves and Fittings with our micro irrigation products. In addition our customers in the Irrigation and Water infrastructure industry will benefit from this partnership since we will be able to provide a one stop integrated solution with a complete portfolio with a continued strong focus on innovation."
Kris Holla, Chief Sales Officer of TALIS Group said: "We are very excited about this strategic cooperation and look forward to introducing Talis products through JAIN network globally. We are joining forces in order to be number one in supplying Valves, Couplings and Fittings for Irrigation markets globally. Together, we are in a strong position to support businesses seeking to extend their existing irrigation and pipe products with with TALIS solutions."
Todays transaction allows strengthening the ties between India and Israel, and marks 20 years of the establishment of diplomatic relations between the two countries. Jain was the first Company to enter into a business partnership in Israel, in such a unique and successful manner.
About the Jain Irrigation
Founded in 1963, Jain Irrigation is a diversified integrated company with more than 7,500 employees and a product portfolio encompassing irrigation products, piping products, plastic sheets, dehydrated foods, fruit puree and juice concentrates. Jain Irrigation has pioneered drip irrigation for small farmers in India and has a major market share in one of the fastest growing irrigation markets in the world and is also the largest drip irrigation company in the world.
Jain Irrigation annual turnover stands at $1billion with global presence in 120 countries and 4 continents. The company was named as one of the eight Indian companies expected to emerge as challengers to the Worlds leading companies by Standard and Poor. More information can be found at: www.jains.com
About Talis
With strong brands including Erhard, Raphael, Belgicast and Bayard, and locations in Germany, France, Spain, Portugal, Italy, Great Britain, the Netherlands, Russia, Poland and Israel, TALIS is the largest supplier of valve technology and the first choice when it comes to water valves, fittings and services for the complete water cycle. Together with Bayard and Raphael control valves, we are also the leading solution provider for Irrigation and Fire protection markets.
or generations our European brands have been the standard for quality and reliability. In Europe, Africa, Asia, Australia and Americas our products help guarantee not only the safety of water but also efficient operations and optimized investments. We provide the most comprehensive range of products for the Water Transmission and Networks, Irrigation, Fire Protection, Desalination, Sewage and Industrial applications. With a broad range of products, from small air valves to large DN 4000 butterfly valves, TALIS has the right product for every application. TALIS also has the engineering expertise to configure products to specifically match our customers requirements. More information can be found at : www.talis-group.com