Forbes India Magazine presents 'Good Company Award' to Jain Irrigation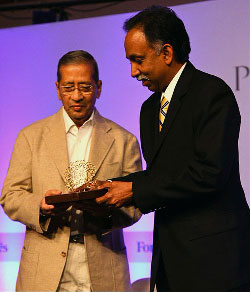 Mr. Bhavarlal Jain, Founder President of Jain Irrigation Ltd. receiving
Forbes India "Good Company Award" from Mr. S.D. Shibulal, Chief Executive Officer of Infosys.
Bangalore, 22 November 2012: Forbes India presented its prestigious 'Good Company Award' to Jain Irrigation Ltd., highlighting the company's fruitful contribution to the "have nots" of the society and in improving the lives of the small farmers, while maintaining its standing in the corporate world and leadership position in its industry.
The award recognizes business leaders who have stepped up to the challenge of serving our people, especially the under-privileged who need the support and Jain Irrigation was a most deserving winner.
Mr. S.D. Shibulal, Chief Executive Officer, Infosys presented the award to Mr. Bhavarlal Jain, Founder President of Jain Irrigation Ltd. on 21st November 2012 at a function held in Hotel Leela Palace in Bangalore and attended by a large number of dignitaries including Mr. Azim Premji, Chairman of Wipro; Mr. N. Vaghul, Former Chairman of ICICI; Mr. Sanjeev Sarin, Regional President of Global Benerages; Mr. Abraham Moses, Mr. Ashish Dhavan, Sir Darabji Tata, Trustee and Consultant of Tata Trust, Mr. A.N. Singh and many leading industrialists, heads of several foundations, NGOs as well as companies implementing corporate social responsibility projects.
In his acceptance speech, Mr. Bhavarlal Jain mentioned that social responsibility forms an integral part of Jain Irrigation's core philosophy. In the development of its business, the company's focus has always been small farmer and how the company can assist him in improving his income. The company derived enormous satisfaction from its efforts in improving financial well-being of the small farmer.
In the current scenario, Jain Irrigation's exemplary contribution to the development of agriculture is laudable as it has maintained competitive price and never compromised on quality. Jain Irrigation has also laid emphasis on providing training and educating farmers on best practices.
Jain Irrigation was founded with the objective of providing high technology solutions like drip irrigation, micro irrigation and other modern options to make use of the available water in the most beneficial manner so that agriculture will become more remunerative for small farmers.
The three parameters on which the companies were judged included their role as a change maker and innovator in the field of philanthropy, in the long term development of the people and their contribution in environment protection.