World's Largest Drip Irrigation Project Designed & Built by Jain Irrigation dedicated to Farmers by CM of Karnataka
1 March 2018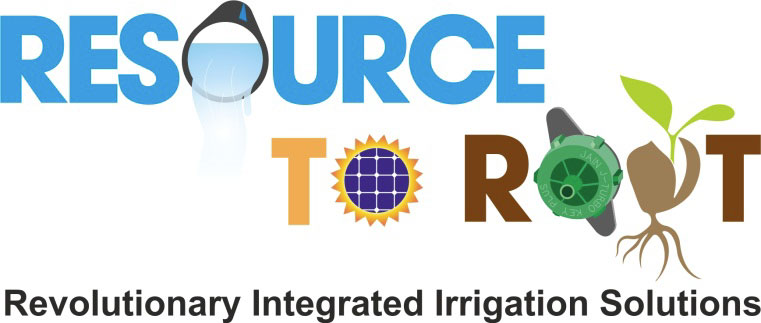 Hungund, Karnataka, World's Largest Integrated Fully Automated Drip Irrigation Project Constructed by Jain Irrigation Systems Ltd. Jalgaon, at Ramthal ( Marol) in Karnataka is inaugurated and dedicated to the beneficiaries by Shri. Siddaramaiah Honorable Chief Minister of Karnataka, other Hon. Ministers of Karnataka and Honourable Members of Legislative Assembly, Hungund. This project has been executed under Krishna Bhagya Jal Nigam Limited a Division of Water Resources Department of Karnataka.
Key Highlights:
12,300 Ha of area covering 7382 farmers of Hungund and nearby talukas.

Work order value about INR 4,850 Million completed in 18 months.

Reinforcing JISL's micro irrigation expertise, solutions and global leadership.
The integrated East Side Package of the project will irrigate 12300ha of land with fully automated Drip Irrigation System. Under this integrated project, water is delivered directly from source to the root zone using HDPE/PVC piping network and on farm drip irrigation systems.
This innovative approach of "Resource To Root" pioneered by JISL will help improve overall project efficiency up to 85+%. Traditionally the overall project efficiencies have been abysmally low i.e. up–to 35–40%.
This project is providing irrigation facilities to 7382 beneficiaries consisting of 28 water user co–operative societies. Jain Irrigation systems Ltd. Jalgaon has undertaken the work of formation of Water User Associations, Survey, Investigation, Planning, Designing, Supply and Execution of the entire project on turnkey basis.
The scope also included construction of Distribution system with Use of HDPE/PVC piping network, Installation of On–farm Fully Automatic Drip Irrigation System in 12300 Hectares command area, training and capacity building of the farmers beneficiaries and maintenance of the project for 5 years.
This irrigation project is operated through Jain–logic™ remote monitoring and control system (Jain IrriCare™ cloud based mobile application).
The project assures benefits such as substantial yield increase, huge water savings, considerable input costs savings, improvement in soil health and many more multiple benefits to all the stakeholders including government.
Company's Managing Director Shri. Anil Jain said that "This innovative approach of 'Resource to Root™' & 'More Crop Per Drop®' pioneered by Jain Irrigation is bringing transformation in irrigation sector of the country".
"This revolutionary project will ensure sustainable farming, as it is technically feasible, economically viable, socially acceptable, equitable and environmentally balanced solution".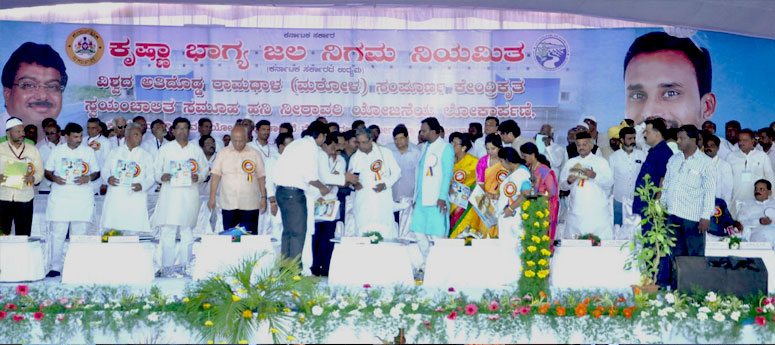 Hon CM of Karnataka Shri Siddaramaiah inaugurating the project by starting pump through Jain IrriCare™ Mobile App.
For more details of this revolutionary project please visit video link :–
https://www.youtube.com/watch?v=6-QC2yX306A
ABOUT JAIN IRRIGATION:
Our Company, Jain Irrigation Systems Limited (JISL) with it's motto 'Small Ideas, Big Revolutions' with more than 10,500+ associates worldwide and revenue of ∼USD 1 Billion, is an Indian multinational company with manufacturing plants in 30 locations across the globe. JISL, its subsidiaries and associates are engaged in providing solutions in agriculture, piping, infrastructure through manufacturing of Micro Irrigation Systems, PVC Pipes, HDPE Pipes, Plastic Sheets, Agro Processed Products, Renewable Energy Solutions, Tissue Culture Plants, Financial Services and other agricultural inputs since more than 34 years. It has pioneered a silent Productivity Revolution with modern irrigation systems and innovative technologies in order to save precious water and has helped to get significant increase in crop yields, especially for more than 6 million small farmers.
It has also ushered in new concept of large scale Integrated Irrigation Projects (IIP).'More Crop Per Drop™' is the company's approach to water security & food security.
JISL is early pioneer for IOT in the agri–sector and is leading efforts to create global solutions with precision agriculture. It's food brand 'Jain FarmFresh' is well known all over the world for quality and consistency.
All the products and services of JISL help create a sustainable future while fulfilling its vision to 'Leave this world better than you found it'. JISL is listed in NSE–Mumbai at JISLJALEQS and in BSE at code 500219.
DISCLAIMER:
Certain statements that may be made or discussed at the conference call may be forward–looking statements. Such forward–looking statements are subject to certain risks and uncertainties like significant changes in economic environment in India and overseas, tax laws, import duties, litigation, labour relations etc. Actual results might differ substantially from those expressed or implied. Jain Irrigation Systems Ltd will not be in any way responsible for any action taken based on such statements and discussions; and undertakes no obligation to publicly update these forward–looking statements to reflect subsequent events or circumstances.