Two Day Third FALI Convention concludes
India would become Superpower due to Smart Farmers: Anil Jain
Jalgaon, 30 April 2017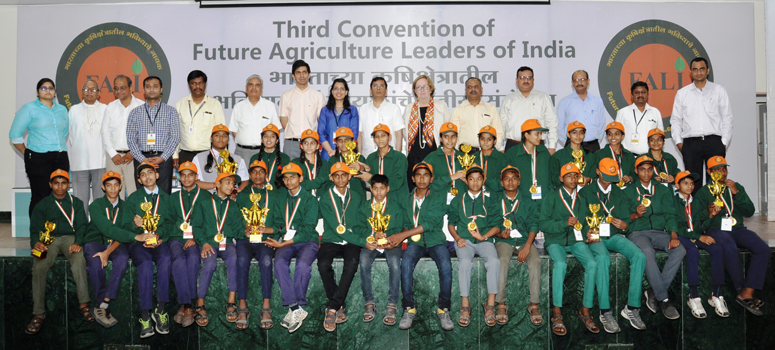 If every farmer determines his mind that "Whatever I would do would be first and the best, then our India would surely become a superpower, said Mr Anil Jain, Vice-Chairman and CEO of Jain Irrigation Systems Ltd. He was speaking at the farewell session of third convention of the Future Agricultural Leaders of India (FALI) 2017. Mr Anil Jain and other dignitaries gave away FALI jacket and FALI trophy and medals to winners in 5 groups in Business Plan Competition and Innovation contest.
In yesterdays farewell session, there was lighting the traditional lamp by the dignitaries at 3 pm. Sakshi Davange, Shubhangi Bajare, Samarth Ushir, Yogesh Patil, Tanuja Patil, Siddhi Shinde, Pradip Bhosale and Pratiksha Bhosle expressed their thoughts on behalf of all participating FALI students. The correspondents of other corporate companies who also expressed their thoughts participated in FALI 2017. Godrej Agrovet's M B Dhakne, UPL's Chandramohan Bund, Bayer's Sanjay Pawar and Uddhav Borulkar also spoke on the occasion.
Mr Anil Jain, Vice-Chairman of Jain Irrigation, said that we would do agriculture in a way different from the today when we would do agriculture as there would be a change in future. There would be many changes in future because of technological advances and progress. Despite such changes in technology, we need farmers three times a day for everyone of us in terms of the food grains he grows. In India, the output of food grains is around 250 million tons but in the next 25 years, there will be more increase in population. So we will require the need of 500 million tons of food grains. The agricultural land area would decrease but still we would need to produce double amount of food grains. To achieve this output, farmers have to use advanced technology in agriculture, he added.
Some years ago, it was not a matter of pride to say that you are a farmer or you are doing agriculture. At that time, my father Bhavarlaji Jain kept only single aim for his entire life and that was - 'farmers should be able to live with a dignity.' So my father took a lot of pains and worked very hard. For achieving his aim, he made high technology in agriculture available at the farmer's field. The company with Rs 7000 and today it has a turnover of over Rs 7000 crore. Technology would never be constant and it would continue to evolve and improve by leaps and bounds every day. Before a decade, nobody thought of four wheelers would be able to run without the driver. Now that experiment is becoming successful. Similarly new high technology is also entering in agriculture. So he advised everybody present in the audience to be watchful.
Our competition should be not with others but we should compete with ourselves. If you think like this, then you would be a successful person in your individual life. Today there are 12 to 14 crore farmers in India and the psychology of these farmers is changing. Tomorrow, this number would be less; say 10 crore farmers. FALI students would be ready to do agriculture in agricultural lands of those persons who would not do agriculture in future. Therefore, it is a very big opportunity to FALI students, he said.
First 5 groups in Business Plan Competition are-
K G B M School Kasara presented a business plan of nursery and they won the fifth prize. The fourth place winner were students of S S Patil School's Chahardi with their project of papaya cherry. Third place went to students of Madhyamik Ashram School Lohara creating a hand bag from the stems of banana tree. Students of Kellod, Nagpur's Bhimrao Bapu Adarsh School won the first number prize for their project of integrated farming system.
First 5 groups in Business Innovation Competition are-
Shriram School Nanadgaonmukh district Nagpur won the fifth number for their Agro-Friendly Spraying Machine. Students of Bharatmata School Satara got the fourth place for their project of Multi-Purpose Machine. Ganpatrao Kalange School students were third for their project Mini Bio-Gas Plant while students of Shramik School Chhadvel, Sakri dist Dhule were second for their project Onion Preservation Plant. Shivaji High School Amravati students won the first prize for their 'Mobile Bluetooth Automation.'