Resplendent inauguration of Individual Quick Frozen(IQF) and Black Frozen Food(BQF) Plant by Chief Minister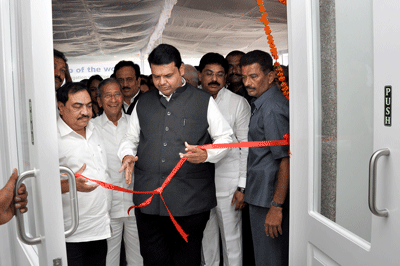 Jalgaon, 20 June (Representative) The Chief Minister of Maharashtra, Mr. Devendr Phadnavis, while inagurating the new IQF Plant of Fruits and Vegetables in Food Park Division of Jain Irrigation, highly praised the priceless contributions of Mr. Bhavarlal Jain, the Founder Chairman of Jain Irrigation, towards building a brighter future for Indian Agriculture. The Revenue and Agriculture Minister, Eknathrao Khadse, Water Resource Minister – Girish Mahajan, Founder Chairman of Jain Irrigation – Bhavarlal Jain, M.P.s – A. T. (Nana) Patil, Rakshatai Khadse and many other dignitaries were present on this glorious occasion.
After inaugurating the new IQF Plant of India's largest fruit and vegetable processing division of Jain Irrigation, which has added a great deal in the realization of dream of 'Make in India' as well as 'Make in Maharashtra', Chief Minister, Mr. Devendra Phadnavis had a dialogue with the participants of the function.
He was very happy that Jains have made available such ultra modern facility of fruit and vegetable processing in our country which would facilitate and augment our horticulture fruit and vegetable export to a greater extent. He said, Jain Irrigation has made Jalgaon famous all over the world and he has seen their outstanding quality of work in many nations of the world, including Kibutz, Israel where they have made pioneering contributions to all round development of agriculture. He praised Bhavarlal Jain for his peerless dedication to agriculture and expressed his amazement about his assiduous efforts in realizing 'Sustainable Farming' at Jain Hills.
C M Phadnavis visits the demo centre 'Solar Agri–Pump' of Jain Irrigation
Mr. Phadnavis visited and learnt about various experiments done in High–Agri–Technology at the R&D Centres at Jain Hills and Jain Valley, through demonstrations. He witnessed how totally barren land could be a boon to horticulture of pomegranate, sweet lime etc. He also expressed happiness about the capacity of various kinds of agri–pumps to suit various requirements. The Founder Chairman of Jain Irrigation, Bhavarlal Jain and Managing Director Anil Jain showed him around and provided the information.
Salient Features of IQF Plant:
• Technology: Individual Quick Frozen(IQF) & Block Quick Frozen(BQF). • Indigenous Technology. •Processing and Value–addition of the produce of local farmers in from the local soil. • Production Capacity: • IQF: 40 m.t./day; • BQF: 16 m.t./day • Fruit Handling Capacity: 200 m.t./day (60,000 m.t./year). • Manpower: 400/day. • Fruits: Mango, Banana, Pomegranate, Papaya, Jamun, Strawberry, Sapota. • Quality Standard Certification: BRC, ISO 14001, OHSAS 18001, ISO 50001, Halal and Koshar. • Turnover: Over 100 Crores in Foreign Exchange. • Export: USA, Europe, Japan, Australia, New Zealand, and Middle East.