Udumalpet's New Fruit Processing Project Inaugurated
Tamilnadu Farmers Lead in Implementing High Technology Agriculture: Ashok Jain Chairman, Jain Irrigation Systems Ltd.
8 June 2017, Udumalpet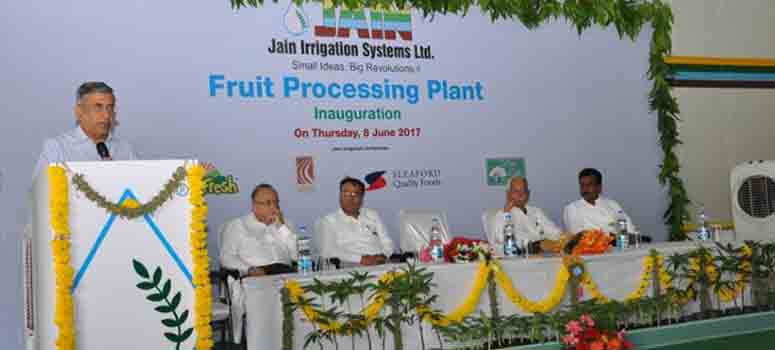 Farmers of Tamilnadu are leading in implementing high technology agriculture. Jain Irrigation is committed to add value to the fruits and vegetables harvested by these farmers, Mr Ashok Jain, Chairman, Jain Irrigation Systems Ltd reiterated here. He was speaking to the farmers after the formal inauguration of fruit and vegetables processing project at Elayamuthur, Udumalpet today (June 8).
Mr Ashok Jain said in his speech that this region is already known for the useful R&D by Banana Research & Development Centre. Farmers here have responded very well to the modern Ultra High Density Plantation (UHDP) method of mango cultivation. This is an example of farmers also taking a lead in implementing UHDP mango plantation. Jain Irrigation would procure, process this, and add value to the mangoes produced by farmers. So that the farmers here would definitely get sustainable income consistently. Jain Irrigation started the fruits processing enterprise in 1997 at Jalgaon in Jain Valley. The Company had already set up a fruit processing plant at Chittoor in 2006 mainly to process mangoes at the same place, where they are harvested, rather than transporting them to Jalgaon from Tamilnadu, Andhra Pradesh and then process them. Now the new project at Udumalpet has also begun functioning. This processing project would be very valuable for mango and aonla grower farmers from Tamilnadu. It has a processing capacity of 200 Metric Tonnes per day. Consequently, this plant would process mangoes, guava and aonla according to the availability of these fruits. Jain Irrigation has already drawn up plans to run this plant for 100 days in a year, he added.
Mr Ashok Jain, Chairman, Jain Irrigation Systems Ltd, unveiled the foundation stone and cut a ribbon to formally inaugurate the project. He also unveiled the image of Founder Chairman Bhavarlalji Jain and foundation stone bearing the slogan of "Leave This World Better Than You Found It." Progressive farmers from this area Ajitan, Narsimhan, Subrahmani, Duraipandi, Jayachandran and Sunil Deshpande, Vice-President, Jain Irrigation Systems Ltd, Sunil Gupta, Balaji Hake,Tamilnadu Plant Head Shantikumar Kataria, Dr Narayanan, Velumurugan, Pravin Kumat, Amol Chaudhari and other associates were present on the occasion.
Many farmers from Udumalpet have been harvesting mango, aonla and other fruits after successful implementation of Jain Gap-Certified hightech agricultural technology developed by Jain Irrigation. These farmers have increased their fruit production on a large scale. Jain Irrigation has concentrated on the processing of Totapuri and Alphonso mangoes through the medium of "Unnati" project