State Govt. to Encourage Fruit Processing Industry: Phadnavis
Coca–Cola creates new orange–based beverage
7th Sep 2017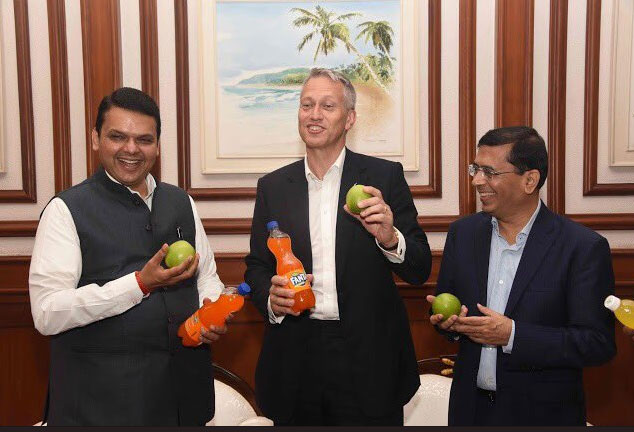 Mr Devendra Phadnavis, CM, Mr James Quincy, Coca–Cola Presidentand
Anil Jain, MD, Jain Irrigation are seen at Sahyadri Guest House.
Mumbai, State Government is keen on making the horticulture sustainable by encouraging the fruit processing industry, Chief Minister Devendra Phadnavis said yesterday. He was speaking after inaugurating the Coca–Cola's orange–based beverage prepared using orange pulp at the Sahyadri Guest House.
Coca–Cola Company had processed orange juice and produced a new beverage which would definitely give good market price to the orange–grower farmers. The CM also hoped that Coca–Cola would also start using the Alphanso mango juice to take a lead in producing more beverages at this occasion. James Quincy, Coca–Cola's President and CEO, also said that it is making all–out efforts to offer maximum support price for the orange growers by launching now Minute–Maid Orange beverage after earlier launching Minute–Maid Mosambi. The consumers are also getting a very good quality beverage, he added. Coca–Cola had also increased the mixture of fruit juice from 5% to 10% in it's product 'Fanta.' This had made more market place available to the orange growers. On this occasion, Mr Anil Jain, Managing Director, Jain Irrigation Systems Ltd, Mr John Murphy, President, Coca–Cola Asia Pacific Group, Mr Pravinsingh Pardeshi, CM's Additional Chief Secretary, Mr T. Krishnakumar, President, South–East Asia Region, Coca–Cola India, Mr Arial Finan, President, Executive and Bottling Investments Group, Coca–Cola and many orange growers also were present on this occasion.
"Jain Irrigation has brought a new Brazilian sweet orange variety from abroad into Maharashtra and created a new sweet orange after making a lot of R&D. This variety incidentally combines all advantages of both fruits – mosambi and orange. The production of this orange fruit is at least 3 to 4 times more than the conventional orange crop. Company's food processing plant is situated at Jalgaon and now it is setting up a fruit processing plant at Morshi in Amravati for processing orange and mosambi,"
Anil Jain, Vice–Chairman and Managing Director, Jain Irrigation Systems Ltd.