NaanDanJain Irrigation Ltd., inked a pact worth 18.7 million Euros with Ministry of Agriculture and National Development, Eritrea for supply of Solar Powered Drip Irrigation Systems.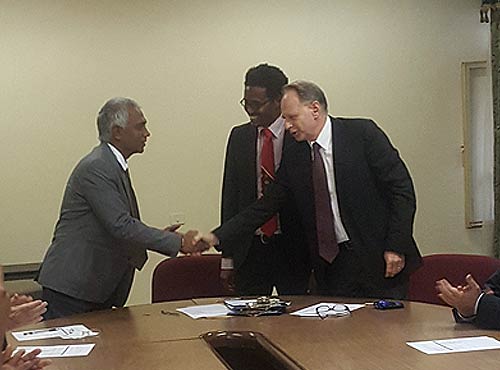 9th Sep 2016 Jalgaon NaanDanJain Irrigation Ltd, a Group Company of Jain Irrigation Systems Ltd, today signed a contract with Ministry of Agriculture and National Development, Eritrea for supply and installation of Solar Powered Drip Irrigation Systems of value 18.7 million Euros. This is the largest agricultural development for small holders in Eritrea. This project was fully funded by European Union. The project will bring much needed relief for about 2000 farmers in 14 different locations spread over Eritrea, in 7 different clusters of Lots. In each of the 14 project locations, water from reservoirs will be supplied to groups of farmers through the Drip Irrigation systems. The water from the reservoirs will be conveyed through underground pipeline into the Drip systems using Solar Photovoltaic Systems, which makes the project sustainable for a long term energy requirements to run the irrigation pumps/Drip systems. The project will be executed in next 18 months whereby the farmers in the project area will be benefited with higher farm incomes.
The project is the first of its kind integrated Drip Irrigation project with Solar pumping in Africa and will be relevant for many other countries where the farms are not connected with Grid electricity.
These community based projects, being undertaken extensively In India and now in Africa, are opening up new vistas for the developing world. They are creating a seamless connect between Macro and Micro, Infrastructure and Agriculture, Availability and Productivity, Cost and Value:
In a signing ceremony presided by the officials from the Ministry of Agriculture, Ministry of National Development, EU Delegation in Eritrea, and various other dignitaries, the Contract was signed on 8th September 2016.
About NaanDanJain:
NaanDanJain Irrigation Ltd is a Wholly Owned Subsidiary of Jain Irrigation and is head quartered in Israel. Established in 1938, NaanDanJain pioneered modern irrigation through its innovative drippers, sprinklers, micro sprinklers and fogging systems. Its wide range of products enables the company to provide optimum irrigation systems based on the crops, soils and other local factors. With its 10 subsidiary companies located in Spain, France ,Italy, Romania, Turkey, Brazil, Mexico, Peru, Chile and Australia, it serves the farmers in more than 100 countries.
About Jain Irrigation:
Our Company, Jain Irrigation Systems Limited (JISL) with its motto 'Small Ideas, Big Revolutions', with more than 10,000 associates worldwide and a revenue of over 60 billion rupees, is an Indian multinational company with manufacturing plants in 30 locations across the globe. It Is engaged in manufacturing of Micro Irrigation Systems, PVC Pipes, HOPE Pipes, Plastic Sheets, Agro Processed Products, Renewable Energy solutions, Tissue Culture Plants, Financial Services and other agricultural inputs since last 34 years. It has pioneered a silent Productivity Revolution with modern Irrigation systems and innovative technologies in order to save precious water and has helped to get significant increase in crop yields, especially for millions of small farmers. It has also ushered in new concept of large scale Integrated Irrigation Projects (liP). 'More Crop Per Drop™ is the company's approach to water security and food security. All the products and services of JISL help create a sustainable future while fulfilling its vision of 'Leave this world better than you found it'. JISL is listed In NSE-Mumbai at JISUALEQS and in BSE at code 500219.
Please visit us at www.jains.com.
DISCLAIMER:
The information in this release has been included in good faith and is for general purposes only. It should not be relied upon for any specific purpose and no representation or warranty is given as regards to its accuracy or completeness. No information in this press release shall constitute an invitation to invest in Jain Irrigation Systems Limited. Neither Jain Irrigation Systems Limited, nor their or their affiliates officers, employees or agents shall be liable for any loss, damage or expense arising out of any action taken on the basis of this release, including, without limitation, any loss of profit, indirect, incidental or consequential loss.