Make in India prize bestowed upon Jain Irrigation Systems Ltd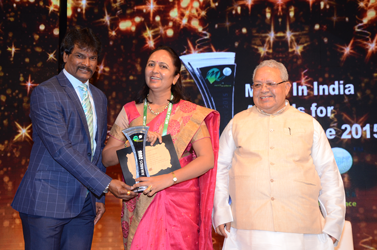 20 August 2015, Jalgaon. 'Crazy Mantra Group' felicitated 'Jain Irrigation' by awarding 'Make in India' prize for adopting indigenous technology to imprint on worldmap in the field of agriculture and bio-technology. This prize was accepted by Ms. Sangeeta Ladhdha, Senior company official, at the hands of Cabinet Minister Shri. Kalraj Mishra and well-known Hockey player Shri. Dhanraj Pillay in the function held at Mahatma Mandir, Gandhinagar.
In the same function, Tata Consultancy Services, National Aerospace Laboratories, India Yamaha Motors, Suzlon India, JK Laxmi Cement etc companies also were felicitated. JAIN has substantially contributed on world level in the field of agriculture. Contribution through hi-tech technology such as drip irrigation, Micro irrigation, Solar Pumps, Pipes, Tissue Culture, Bio-Technology was considered while selecting. JAIN is with the mark of NABL. It has deeply studied the different viruses on many crops and has enriched the farmers with the knowledge. JAIN s No. 1 Company in making available tissue cultured healthy banana plants in the world. The selection committee mainly focused on this aspect. Joint MD of the company, Shri. Ajit Jain congratulated all associates active in bio-technology dept. for this attainment.