Jain's modern technology to benefit Latin American Countries Ambassadors of 9 nations visit of Jain Irrigation and fields
New Delhi, May 11, India's agricultural sector has performed very well due to Drip and Sprinkler Irrigation Technology of Jain Irrigation Systems Ltd over the last 3 decades; despite having diversity of climate and lack of sufficient water. This can be of great relevance to the Latin American nations as well. A team of Ambassadors and Diplomats of countries from Latin America visited Jain Irrigation Systems Ltd. (JISL) to understand the advanced technologies developed with regards to agriculture and the progress made by India this sector.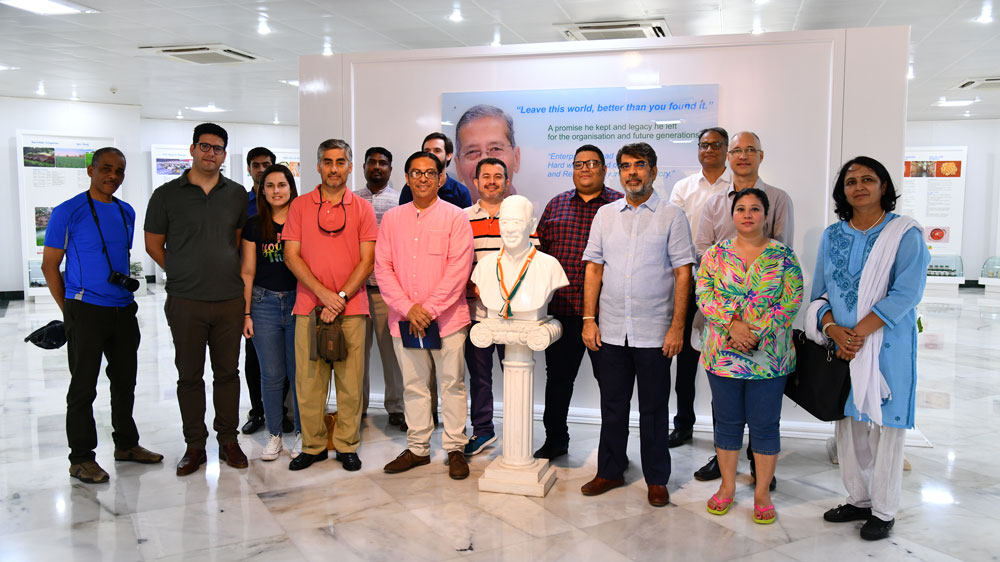 Ambassadors and Diplomats of El Salvador, Ecuador, Bolivia, Brazil, Costa Rica, Panama, Cuba and Mexico visited Jain Irrigation at Jalgaon to study the Micro Irrigation Technologies developed and executed on field.
The Ambassador of El Salvador in India, Ariel Andrade, said that Jain Irrigation's integrated irrigation method has uplifted the standard of living of farmers. Scientific knowledge is being used for developing such technologies. This method is useful for Latin American nations because there is a dry climate there and also has water shortage issues. He indicated the similarities of the crops developed with high efficiency by this Indian company, such as in the cases of onion, citrus, banana and also coffee.
Ambassador of Chile Juan Angulo said that innovative technology of Jain Irrigation to produce more crops has been very useful in the climate of Chile. Several methods of water collection and use of novel irrigation techniques of Jain Irrigation can bee useful in Chile's agricultural sector too.
The Agriculture Attache to the Brazilian Embassy in India, Dalci Bagolin, highlighted the successful implementation of technological innovations for banana crop in such inhospitable conditions like very high temperatures & heat. Hence Jain Irrigation's technology can also be used in the hot regions of Brazil, he said.
The Ambassador of Ecuador, Hector Cueva Jacome, said that India's experience in Micro Irrigation Systems is very important. India is leading in the Micro Irrigation technology worldwide which can be used to achieve more agricultural output in Latin American nations as well. In places like Jalgaon where the climatic conditions are similar to a desert and temperature can go up to 50 degree celsius, Jain Irrigation's technology assists farmers to grow bananas and take very high output. This is very innovative, he added.
Many of Latin American countries are keen to do a tie-up with Jain Irrigation for undertaking several projects like these and enhance their over all agricultural productivity and thus creating a shared value for all.
Participation of Ambassadors and Diplomats of 9 Latin American Nations
During this tour, Bolivia's Ambassador Juan Jose Cortez Rojas, Panama's Ricardo Augusto Berna Meneses, Ecuador's Hector Cueva Jacome, Mexico's Agriculture Attache Santiago Ruy Sanchez, El Salvador's Ambassador Ariel Andrade, Cuba's First Officer Juan Carlos Sanchez, Chile's Ambassador Juan Angulo, Brazil's Agriculture Officer Dalci Bagolin, Costa Rica's Ambassador Eduardo Salgado Retana and Chief Editor of Latam a Leading newspaper a in Latin American Alfredo Evaristo Boada Mola visited several establishments of Jain Irrigation at Jalgaon, India. They also went on a tour of Raver where they surveyed banana crop of Indian farmers.