Jain Irrigation Receives "Best Innovation Award"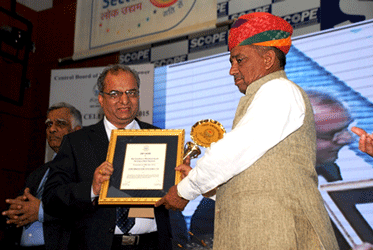 New Delhi – On 1stJanuary 2015 the CBIP's Day of Celebration, Jain Irrigation has received National Award for Best Innovation in Manufacturing and Servicing in Water Resources.
This award was given by Central Board of Irrigation and Power, Government of India at the hands of Honorable State Minister of Water Resources, River Development and Ganga Rejuvenation, Shri Sawarlal Jat at Scope Convention Center, New Delhi. The award has been given for Jain Irrigation's outstanding contribution in the field of inventing, designing, manufacturing and servicing of effective use of water resources.
Jain Irrigation Systems Ltd. (JISL) has been providing modern hi-tech irrigation systems and innovative technologies in order to save precious water and significantly improve crop yields, especially for the small farmers. JISL has developed Jain Integrated Irrigation Solutions (JIIS), which can be adopted in canal command areas to increase Water Use Efficiency up to 85% as against 40% in the conventional irrigation methods.This is based on the concept of bringing the water from "Reservoir to Root" which includes lifting the water from reservoir, creating pipe distribution network, and optimum utilization of water on the farm using advanced irrigation and automation systems.
On this auspicious occasion, Union Minister of Water Resources, River Development and Ganga Rejuvenation, Sushree Uma Bharti was also present. The company's Senior Vice President, Mr. Somnath Jadhav, received the award.
About Jain Irrigation (www.jains.com)
Our Company, Jain Irrigation Systems Limited (JISL) with more than 10,000 associates worldwide and revenue of 59 billion rupees, is an Indian multinational company with manufacturing plants in 28 locations across the globe. It is engaged in manufacturing of Micro Irrigation Systems, PVC Pipes, HDPE Pipes, Plastic Sheets, Agro Processed Products, Renewable Energy solutions, Tissue Culture Plants, Financial Services and other agricultural inputs since last 34 years. It has pioneered silent revolution with modern irrigation systems and innovative technologies in order to save precious water and has helped to get significant increase in crop yields, especially for millions of the small farmers. It has also ushered in new concept of large scale Integrated Irrigation Projects (IIP). All the products & services of JISL help create sustainable future while fulfilling its vision 'Leave this world better than you found it'. JISL is listed in NSE-Mumbai at JISLJALEQS and in BSE at code 500219.
Please visit us at www.jains.com
DISCLAIMER:
The information in this release has been included in good faith and is for general purposes only. It should not be relied upon for any specific purpose and no representation or warranty is given as regards to its accuracy or completeness. No information in this press release shall constitute an invitation to invest in Jain Irrigation Systems Limited. Neither Jain Irrigation Systems Limited, nor their or their affiliates officers, employees or agents shall be liable for any loss, damage or expense arising out of any action taken on the basis of this release, including, without limitation, any loss of profit, indirect, incidental or consequential loss.