Jain Irrigation holds 30th AGM
28th Sep 2017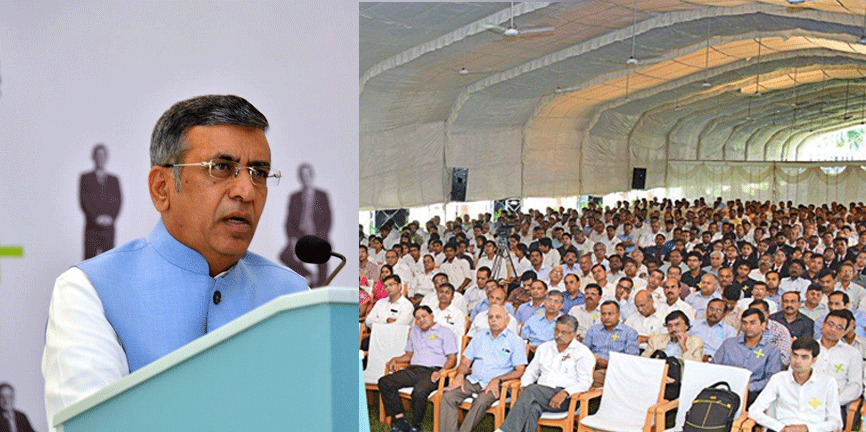 • Jain Industrial Group now enters spice processing industry
• Jain Irrigation to provide digital agro service
• A success story which began from Rs 7000 investment to Rs 7000 crore turnover
Jain Industrial Group to enter spice production
Due to the unnecessary use of chemical fertilizers, the nutrients in crops are reduced, Mr Anil Jain said. The Company is about to commence the production of ready-made and chemical-free spices. This plant would also be begin functioning very soon.
Jain Industrial Group Founder Chairman Bhavarlal Jain had planted a sapling which has now become a big banyan tree. The company has been progressing very well due to the contribution and skills of all associates. It is a matter of pride and happiness for all associates that Bhau began with Rs 7000/- as initial capital and the turnover of our company has crossed over Rs 7000 crore. The number of associates have reached over 12000. Every associate has accepted Bhau's lessons of hard work and followed it in practice. The company has been carrying on the legacy of integration and in the near future, Jain Irrigation would begin a new project 'Digital Agro Service' for farmers. This new project would herald significant changes in the lifestyle of farmers, said Mr Ashok Jain, Chairman, Jain Irrigation Systems Ltd. He was speaking at the 30th Annual General Meeting (AGM) of Jain Irrigation. Mr Anil Jain, Vice-Chairman, Jain Irrigation announced on the occasion that Jain industrial group would enter the spices processing industry in future.
The 30th AGM of Jain Irrigation was held today under the Chairmanship of Ashokbhau Jain at Bambhori, Jalgaon. Mr Anil Jain, Vice-Chairman, Mr Ajit Jain, Joint Managing Director, Mr Atul Jain, Mr R Swaminathan, Director, Mr Vasant Varty, Mr Ghanshyam Dass, Mr Harischandra Prasad Singh, Mr Manoj Lodha, Mr Avdhut Ghodgaonkar, Mr Rakesh Rathi, Auditor, Sevadas Dalubhau Jain, Mr Girdharilal Oswal, Mr S V Patil, Mr Sunil Deshpande , Dr. Subhash Jain, Mr Athang Jain and Mr Avinash Jain were present on the dais. Mrs. Nisha Jain, Director, Anubhuti International School, Dr. Bhavna Jain, Chief, Kantai Netralaya and Mrs. Shobhana Jain along with members of the Jain Family also attended the meeting. Shareholders, Company associates, students of Anubhuti School and Raisoni Management Science were present on the occasion. At the beginning of the AGM, tributes were paid to army soldiers who sacrificed their lives for the nation along with the departed Hon. Kantibhau Jain.
Mr Ashok Jain, Chairman, Jain Irrigation further said that though the nation had to face some problems due to the note ban and implementation of GST, we would soon see very good changes. If all people participate in this change, then India would progress well. Indian economy would emerge stronger, he studiously noted. We have earned good profit in the present financial year and optimistically hoped that the progress of the company would further continue in the future. He also pointed out to the theme of the Annual Report and elaborated that it is based on the concept of 'One Plus.' Bhau had implemented this concept since the inception of the Company and the result is the Company's growth as a big banyan tree. He didn't impose his thoughts on company associates while every associate contributed to the progress in the form of skills and hard work. Bhau had an extra-ordinary personality and developed the work culture. Associates have been following this co-operative work culture and preserving it. Bhau's mantra was 'Leave This World Better Than You Found It.' Today, this is the second AGM in which Bhau is not physically present and still we feel his presence and blessings for us. Company is progressing as per his expectations. After this speech, he declared all resolutions put up in the AGM as passed.
Mr Anil Jain, CEO and Vice-Chairman, Jain Irrigation outlined the progress of Jain Industrial Group. He said in his appraisal that some had questions and doubts about the progress of Company after Bhau's death but Bhau had made all associates embrace the work culture of hard work. Therefore, Company is making tremendous progress. Our business was affected in some proportion due to two significant events - the note ban and GST but still the company's progress has been continuing. The turnover of company has already crossed over Rs 7000 crore. The income also grew along with the quality. The profit has increased from Rs 48 crore to Rs 176 crore along with 5.6% rise in the business. We could raise 'Green Bonds' of $200 million from the global market as our products were related to environment. The Company had got 'A' grade ratings and the loan at reduced rate of interest. This is very good for our business. Jain Irrigation has a subsidiary company - Jain Farm Fresh. There is a big opportunity for fruit processing in South India and therefore, we are setting up a fruit processing plant at Hyderabad in Andhra Pradesh and Mr Chandrababu Naidu, Chief Minister, A.P. is also cooperating. The work on integrated fruit production and processing plant at Kurnool (Hyderabad) in an area of 600 acres has already begun. Earlier, he also spoke about orange processing project at Morshi in Amravati district. This project would help orange grower farmers to plant Sweet Oranges saplings and harvest fruits. It would raise their farm income. Mr Atul Jain, Joint Managing Director, proposed the vote of thanks. The 30th AGM concluded with the national anthem.