Jain Irrigation gets 6 Plex Council awards
PVC Foam sheet, Pipes & Hoses and Micro–Irrigation Departments
21st July 2018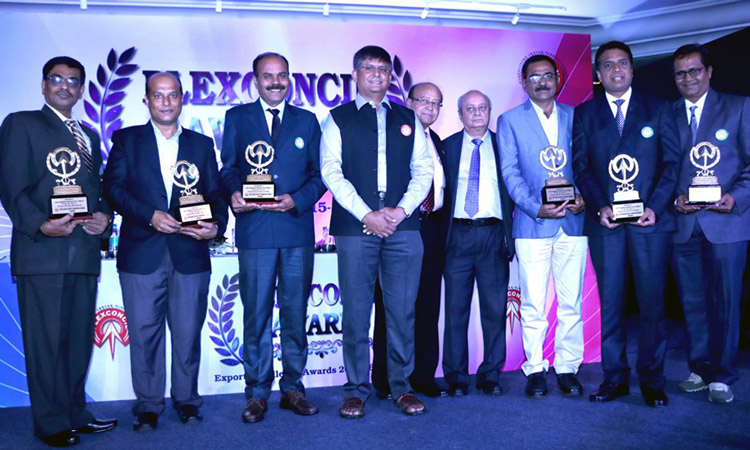 Jain Irrigation associate S T Patil, P A Patil, Milind Pathak, Aslam Deshpande, A B Paliwal and Ravi Gadiwan and other dignitaries after receiving Plex Council awards.
Jain Irrigation Systems Ltd., (JISL) one of the world's leading company in micro–irrigation, has won the export awards for the first number in all three different groups. The company was felicitated in a grand ceremony held in Hotel Leela, Mumbai at the hands of Union Commerce & Industries Minister Suresh Prabhu for 6 awards for first number in 2015–16 and 2016–17. Industries Minister of State Subhash Desai, Joint Secretary, Union Commerce & Industries Ministry Shymal Mishra, Plex Council Chairman Ashok Kumar Basak, former Chairman Pradip Thakkar, G Sudhakar and Ravish Kumar were present.
Jain Irrigation which is a leading and pioneering company in agriculture and agri–products has maintained the continuity in exports of plastic products in 2015–16 in PVC Sheet, PVC pipes and hoses and drip–irrigation departments were given first prize for 2015–16. In 2016–17 also, PVC Sheet, PVC pipes and hoses and Drip Irrigation departments go these awards. The Company kept its export performance very high in the financial year. On behalf of company, Mr S T Patil, Mr P A Patil, Mr Milind Pathak, Mr Aslam Deshpande, Mr A B Paliwal and Mr Ravi Gadiwan – all Jain associates accepted these awards.
Plex Council is an institution established by Indian Government's Commerce & Industry Department. It gives awards to the plastics industries in different fields for their excellent performance in exports. The Plex Council memento and a certificate is the form of this award. Jain Irrigation won the first prize in PVC sheets, PVC pipes and hoses and drip and micro irrigation departments. Jain Irrigation has been winning Plex Council awards for quality and exports since 1991 for every year. Jain Irrigation Chairman Ashok Jain in his reaction to this news said "This is a result of Company Founder Chairman Late Bhavarlalji Jain's foresight. He understood the importance of plastics and therefore, paid detailed attention to produce quality goods of plastics so that they could be used in agriculture carefully. He also maintained the continuity in production of quality products and made quality a tradition of the Company. Naturally, we have won these awards since 1991. I consider it as a honour of all associates working in different departments of the Company."