Jain Irrigation conferred with Golden Trophy award by 'APEDA'
The award was accepted by Mr. Athang Jain, Director, Jain Farm Fresh Foods Ltd.
Jalgaon, 13 June 2017,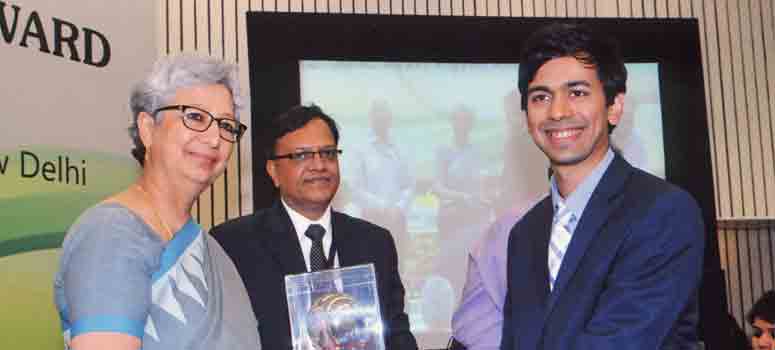 Jain Irrigation's Food Division was conferred with the Golden Trophy award and Certificate of Merit by APEDA for its outstanding performance in 2014–15 and 2015–16. Mr. Athang Jain, Director and Mr. Roshan Shah, Vice President (Sales & Marketing) from Jain Farm Fresh Foods Ltd received the award from Union Commerce Secretary Rita Tiotiya on 12th June at a glittering ceremony at Vigyan Bhavan, New Delhi.
It was conveyed by the Indian Commerce Ministry that through these annual awards by Agricultural and Processed Food Product Export Development (APEDA) India's farm production, and food processing industry are being encouraged to export more and more quality food and other processors. These awards are presented at general body meetings. This 22nd general body meeting was held at Delhi; in the meeting awards were presented. Jain Irrigation received the APEDA award for 15 years, this is a unique honour. Jain Irrigation started a food processing company to save the farmers' perishable yield and also to add value to it.
Looking into the business expansion and the future of increasing food processing industry, Jain Irrigation established a new company 'Jain Farm Fresh Foods Ltd' in this financial year. Jain Irrigation is already known for being world's number 1 Mango Processing unit. Jain Irrigation also does food processing in Mango, Guava, Pomegranate, Tomato, Amla, Papaya and other seasonal fruits. In India Jain Irrigation is number 1 in food processing. Jain Irrigation is also known for Onion Dehydration worldwide.
In India, Jain Irrigation has processing plants at Jalgaon–Maharashtra, Chittor –AP, and Vadodara – Gujarat. Along with this Jain Irrigation also established a new fruit and vegetable processing plant at Udumulpet – Tamilnadu.