"Contribution to Indian Floriculture Industry Award" given in Pune
Jain Irrigation felicitated for pioneering and propagating Controlled Environment Agri Technology
Jalgaon, 6 Mar, 2017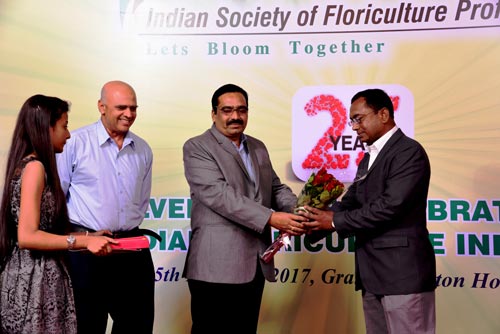 Jain Irrigation, has installed greenhouses over an area of approximately 48 lakh Sq. Mt. responding promptly to the need of the hour, along with drip irrigation, micro-irrigation, tissue culture (TC), automation and solar pump. It is leading in the setting up of greenhouses as well. Adapting the greenhouse technology to Indian conditions and propagating among the farmers was a great challenge. Jain Irrigation used agri extension to supply this high tech knowledge to farmers. Recently Jain Irrigation was felicitated by Indian Society Of Floriculture Professionals (ISFP) for its contribution in the production of greenhouses. S N Patil, Chief, Green House Department, Jain Irrigation received the "Contribution to Indian Floriculture Industry" award in a grand celebration of ISFPs silver jubilee at Hotel Sheraton-Pune.
"Jain Irrigation pioneered aeroponics technology in India and modified it to adapt well to suit Indian conditions and propagated it. We set up Vertical Farming abroad for the first time in the world in the UK. Jain Irrigation set up several innovative projects in agriculture without land, (using coco pits) 120 acres which attracted the attention of the world," said, Abhay Jain, Marketing Head (Maharashtra), Jain Irrigation. "We have made available to the farmers several high technologies in agriculture to farmers according to the need of the hour, which have made the labour of farmers and Jain Irrigation in agriculture more fruitful," he added.
ISFP felicitated the industrialists who have contributed a lot to agriculture in terms of Green Houses, Poly Houses, Drippers, Foggers, Laterals, PVC and Automation. Rich tributes were paid to Jain Irrigation Founder and Chairman Bhavarlalji Jain by one and all at this function.
Over 4000 farmers have found a new way of sustainable financial progress through the Green House Farming. Jain Irrigation has created a network of Green Houses in several sectors such as industry, universities, colleges, research centers and Forest Department. Jain Irrigation has combined floriculture with the Green Houses and helped farmers grow ornamental flowers such as roses, gerbera, carnation, anthuriums, orchids and chrysanthemums on a large scale. Farmers are also getting a larger and better quality output of vegetables and fruits like Simla capsicum, cucumber, cherry, tomato, lettuce, strawberry, beans, brinjals and coriander leaves. Jain Irrigation has already set up several excellent fruits and vegetables producing centres across the country.