JAIN IRRIGATION bags GAILs BEST CUSTOMER AWARD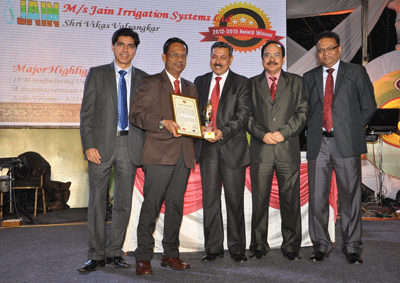 Mr Kamal Tandon GM–Marketing, Mr Vikas Valsangkar VP–Bulk Polymer Jain Irrigation, Mr Prabhat Singh Director Marketing, Mr RC Arora ZGM, Mr PK Gupta–Executive Director
Jain Irrigation Systems Limited (JISL) was recently conferred with the 'Best Customer Award', for achieving the highest quantity of Polymer for FY 2013–14, presented by GAIL India (Oil, Gas & Petrochemical giant having turnover in excess of Rs.50,000 Crores), and the Youngest Maha Navratana Company.
The award was received by Mr Vikas Valsangkar, Vice President–Bulk Polymer, Jain Irrigation, at the Top Customer and CS Felicitation ceremony in Pune on February 18, 2014 by Mr Prabhat Singh, Director–Marketing, GAIL India.
The Award recognizes outstanding achievements in purchases of Polymer manufactured by GAIL India for FY 2013–14.
Mr Prabhat Singh, Director-Marketing expressed to have closer business ties with JISL to scale it further as the availability of Polymer with GAIL is increasing to 4 times of its present capacity.
Shortly Mr Singh will be visiting Corporate HQ of JISL to conclude the same.