Certificate of Appreciation for our organization.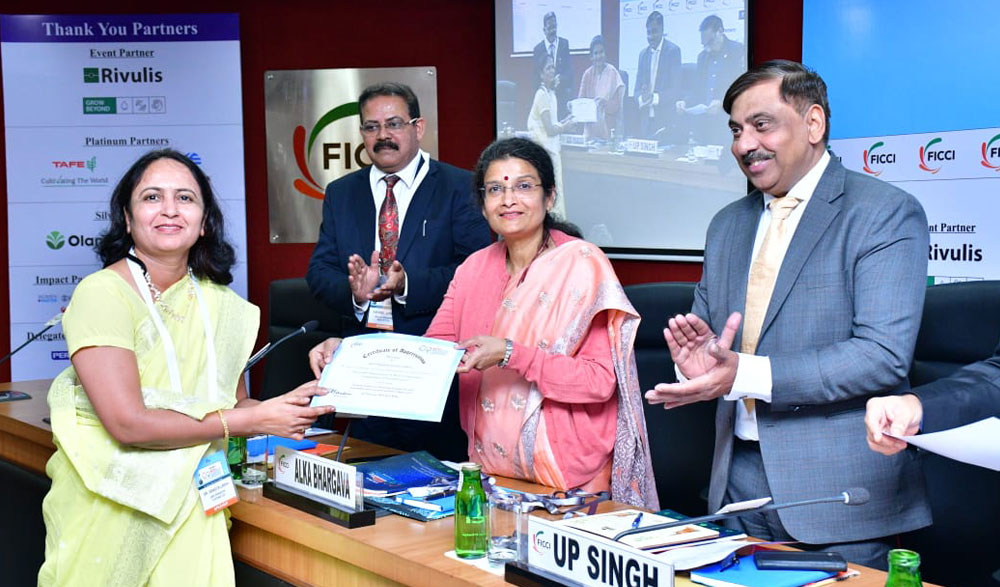 26th Feb 2020, Jalgaon
The National Summit on "Investing in future through Sustainable Water use Management in Agriculture" was organized by Federation of Indian Chamber of Commerce and Industries (FICCI) in New Delhi on 26th Feb 2020.
The deliberations in the Summit were on Challenges in Adoption of water saving technologies in Agriculture, Scaling Sustainable Water Use Management Practices in agriculture, Integrated Approach for achieving shared vision of More Crop Per Drop.
On this occasion, a compendium was released which has case study of Solar based Integrated Water Resources Management- of Kandi Project done by JISL. A Certificate of Appreciation was presented to our organization at the hands of the Chief Guest , Madam Alka Bhargav, IAS, Addl. Secretary, Ministry of Agriculture, GOI and Shri U.P. Singh, IAS, Secretary-Dept of Water Resource, River Development and Ganga Rejuvenation, Ministry of Jal Shakti, GoI for sharing our initiatives and for our Valuable Contribution in, "Sustainable Management of Water in Agriculture" in the Compendium of Good Practices.
We were one of the panelist in the conference and increasing Water Productivity by Irrigating the crop and not the land with Micro Irrigation was stressed. Other major panelist were from Embassy of Israel, Niti Aayog, Ministry of Water Resources, Corteva Agri Science, Olam, Rivulis, Tafe, DSCL, ICRIER, ICRISAT, Dalmia Bharat foundation etc.