Ashok Jain received 'Excellence in Entrepreneurship' Award
Pune, 6 April 2017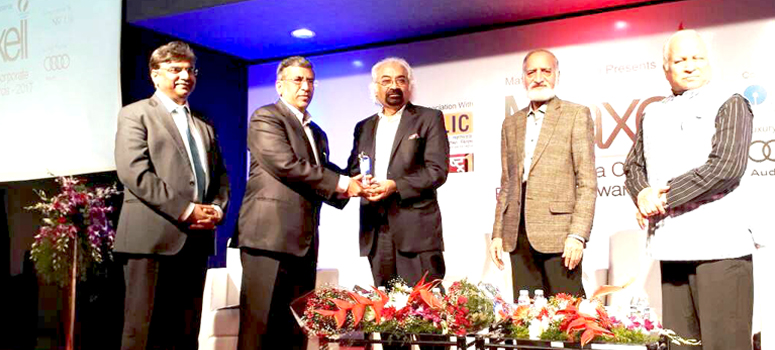 The father of Indian telecom revolution and renowned technologist Sam Pitroda gave away the prestigious Maharashtra Corporate Excellence Award (Maxell Award) to Ashok Jain, Chairman, Jain Irrigation Systems Ltd. Jalgaon at a grand ceremony at Yashda Hall in Pune. Mr Pitroda also gave away awards to other industrialists in Maharashtra. The prestigious entrepreneurship awards are also called Maxell Award and they are being given since last six years .
Mr Jain was honoured with 'Excellence in Entrepreneurship Award' for his significant contribution in several fields such as micro and drip irrigation, pipes, processed agricultural products, tissue culture and solar pump. In the past, this award had been given to Ram Bhogle, Chairman of Nirlep Industrial Group, Vikram Rajadhyaksha, Deepak Gadre, Suhas Kakade, Parshuram Jadhav, Ravi Pandit, Kishor Patil, Ashok Khade and Hemant Gaikwad, Founder of Bharat Vikas Group.
"Fortune magazine has ranked Jain Irrigation as the seventh (7th) company in the world and only one company from India to create transformative impact on world. Jain Irrigation is the only company in the world to have more than 3000 acres land under Research & Development (R&D). It is progressing with the objective of all-round development of farmers. My father Bhavarlal Jain, Jain Irrigation systems Ltd, Founder Chairman planted the sapling which has transformed itself into a huge banyan tree," said Ashok Jain, Chairman, Jain Irrigation Systems Ltd.
Sam Pitroda, chief guest of the function said the technology has changed the entire world. Farmers can achieve record output in agriculture and milk production (dairy sector) if these sectors use advanced technology because agriculture sector is very important sector in Indian economy. India is a country of youths and it has got a stable democracy. Therefore, the world will look at India with a great deal of respect. Nitin Potdar, Founder Trustee of Maxell Foundation and corporate lawyer made the introductory remarks and he gave information about Maxell Foundation and the background of this award. Artist Ajit Bhole anchored the whole programme. Senior Journalist Kumar Ketkar was also present at the function.
'Excellence in Business Leadership' Award was given to Dr Avinash Fadke, Chairman, Super Religare Laboratories Limited while 'Excellence in Innovations' Award was presented to Sanjay Borkar and Santosh Shinde, COO, Shivraya Technologies Pvt. Ltd. 'Maxel Startup' Award was given to Chetna Pawar. A Special Award was presented to Chitra Mete.