Amravati first in Innovative, Satara first in Agri-Business Plan Contest
25 April 2018
Career in Agriculture a service to Nation: Athang Jain; FALI-2018 concludes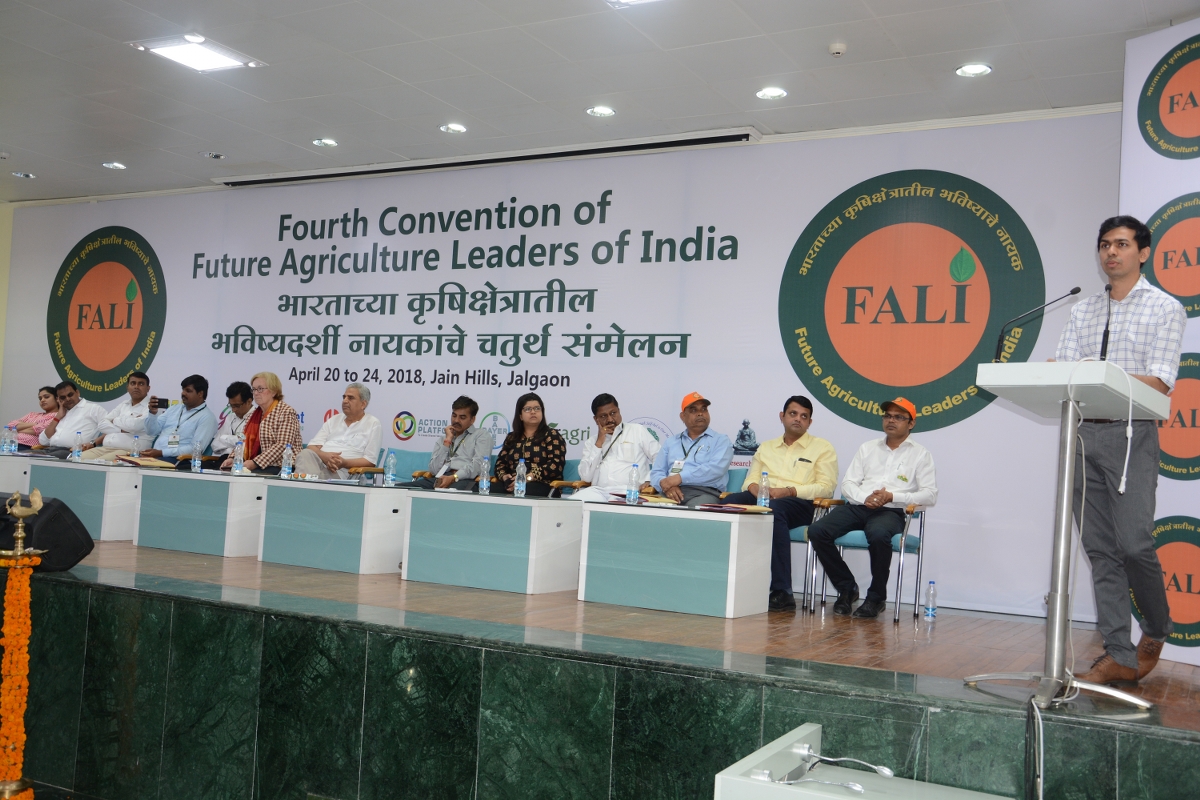 Jain Farm Fresh Foods Ltd addresses students in 'FALI-2018.' Dr. D N Kulkarni, Nancy Berry, Dr. Sanjay Toke, Natha Dodiya, Vishnu Gupta, Kamlakar Mahamuni, Vilas Mandlik, Divya Barmani, Balaji Hake, Alibiya Mujumdar and Viren Brahma are also seen.
Fourth convention of agricultural leaders of India 'FALI-2018' organized by Jain Irrigation Systems Ltd. and Nancy Berry Foundation's Action Platform ended yesterday. In the second phase, orange gradation machine presented by New English Higher Secondary School Amravati's students came first in innovative contest. In the Agri-Business Plan contest, Satara's Maharaja Sahajirao School students' vermicompost production plan came first. Out of 6150 students from 75 schools in Maharashtra and Gujarat, 525 students were selected.
Mr. Athang Jain, Director, Jain Farm Fresh Foods Ltd., Dr. D N Kulkarni, Senior Associate, Jain Irrigation, Nancy Berry, FALI Foundation Coordinator, Dr. Sanjay Toke, Natha Dodiya, Manager, UPL, Vishnu Gupta, Star Agri, Mr Pritam, Bayer, Kamalakar Mahamuni, Rayat Shikshan Sanstha, Vilas Mandlik, Divya Barmani, Balaji Hake, Alibiya Mujumdar and Viren Brahma were present on the dais at Kasturba Hall where the second phase of 'FALI-2018' concluded yesterday. The winners of contests in the second phase were felicitated by the dignitaries.
Speaking to the students on the occasion, Athang Jain stressed that food security is the most important thing for India's security. Agriculture produces the food grains, which in turn, feeds the increasing population and in the future also, agriculture will do it. There is a need for third Green Revolution, Mr Athang Jain, expressed these important thoughts at the concluding ceremony of 'FALI-'2018. He was confident that as agricultural leaders FALI students would definitely learn something. Progress in agriculture is also one type of service to the nation, Mr Jain added. Dr D N Kulkarni, also spoke on the occasion.
Winners in FALI Innovation Contest
Students of 38 schools participated in FALI 2018 second phase Innovation contest. They demonstrated Hydraulic Pressure JCB machine, Multipurpose Spraying and Grass Cutting Machine, Multi-Purpose Machine, Agriculture Machine for several objectives, Karmaveer Multi-Purpose Machine which performs 11 activities in the field and many such innovative equipment. The winners in this contests were: First, New English High School, Varud (Amravati), Second, Chhatrapati Shivaji Vidyalaya (Nashik), Third, Karmaveer Bhausaheb Patil Vidyalaya, Fourth, Mahatma Gandhi Middle & High Middle Vidyalaya (Astha) and Fifth: J B Girls Highschool (Amravati) .
Winners in Agri-Business Plan Contest
Agri-Business Plan contest was held in Fourth FALI 2018 second phase. Students came up with innovative business plans. They included apiculture, Saundarya Agni Astra Pesticides, Organic Vegetable production, Spirulina-21st Century Elixir, silkworm cultivation (silk output), Jelly output from pomegranate, Milk Production, Coconut Husk Processing and such other agri-business plans. The winners in this contest are: First, Maharaja Sayajirao Vidyalaya (Satara), Second, Srimati Ansuyabai Bhalerao Vidyalaya (Nashik), Third, Arudh Vidyalaya (Nashik), Fourth, Hirkani Vidyalaya Gavdewadi (Pune) and Fifth, Mahatma Gandhi Higher Secondary School (Astha).
Positive thoughts and Technology Intervention for stopping Farmer Suicides
On April 23 – the first day of second phase of FALI-2018, students spoke and interacted with progressive farmers. The progressive farmers - Ujjwal Agrawal Narayan Chaudhari, Santosh Lacheta, Madhusudan Patidar and Ramdas Chaudhari participated in the group discussions. Sakshi Varkhede (Nashik), Arya Jawarkar (Amravati), Tejal Patil (Kolhapur), Mittal Shinde (Satara) and Srinath Lonkar (Pune) asked them questions on agriculture. Students had group discussions with progressive farmers. Subsequently, Mr. Athang Jain, Director, Jain Farm Fresh Foods Ltd and Senior Associate Dr. D N Kulkarni also spoke to students. Farmers sometimes suffer heavy losses due to destruction of their crop as a result of natural calamities, leading to a negative mind set. But if farmers follow positive thinking and use state-of-the-art technology, crop rotation, increasing production with water conservation, then every farmer's income will go up due to increase in production with proper market rate for his produce. This will naturally improve the living standards of farmers. Thus, with positive thinking and the use of the latest agricultural technology, farmers would hardly entertain the thought of committing suicide. Sustainable agriculture and positive thoughts together will be the two things farmers must follow to stop the suicides happening in their midst. Rohini Ghadge anchored the programme.