A research project in University of Nebraska (USA) is named after Bhavarlal Jain
at the Water for Food Global Conference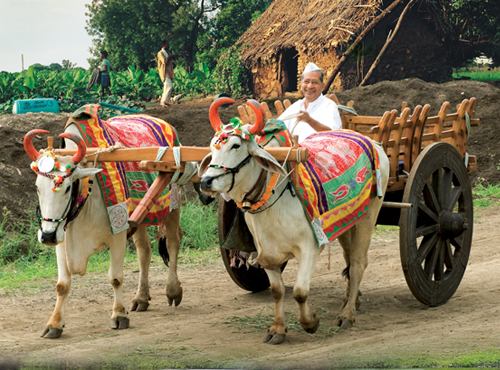 Jalgaon, 28 April 2016 (Correspondent)- The University of Nebraska, globally renowned for quality education and research, and the Robert B. Daugherty Water for Food Institute honoured the founder of Jain Irrigation Systems Ltd., Bhavarlalji (Bhau) Jain for his lifetime achievement. The University of Nebraska (USA) has named their research project as "Bhavarlal Hiralal Jain- University of Nebraska Water for Food Collaborative Program," permanently, to honour Bhavarlalji's pioneering efforts starting a new green revolution through his achievements in effective research, sustainable use of natural resources by bringing together farmers, agronomists, scientists, technologists and industrialists for the same noble cause. University of Nebraska has made an announcement that, under this program, the scientists joining the university will be honorably called as "B. H. Jain Scholars'" and the ones who will complete the research successfully will be felicitated as "B. H. Jain Fellows."
Dr. Hank M. Bonds, President, University of Nebraska, did the honors' of making this announcement and handing a memento to Mr. Anil Jain, Managing Director, Jain Irrigation in the ongoing "Water for Food Global Conference" at Lincoln, Nebraska.
In 2012 the University of Nebraska and Jain Irrigation entered into a formal memorandum of agreement, highlighting co-operation in irrigation technology, crop improvement, and strengthening of talent through education and joint research of young Indian and U.S. scientists. The MOU called for the establishment of a "Jain Irrigation University of Nebraska inspired by and to carry forward Jain Irrigations path breaking concept and motto: "More Crop Per Drop" to develop new approaches in India through practical multi-disciplinary research in collaboration with farmers. For effective communication of this work to different audiences and complementary education, outreach and capacity building programs, last year, Jain Irrigation, entered a grant agreement with the University of Nebraska Foundation, donating resource to support scientific research and educational exchange in those priority areas. University of Nebraska honoured Bhavarlalji with following words:
"Bhau was the first international leader to recognize the importance of the Water for Food Institute''s mission and the first to suggest a mutually beneficial collaboration with Nebraska to overcome the global challenges of food and water security. He was known for his commitment to educational access, equity and quality. He founded the Anubhuti Schools, supported by the "Jain Charities," now known as "Bhavarlal and Kantabai Jain Multipurpose Foundation," serving Indian children from different socio-economic sectors in residential and day school settings. The Anubhuti-2 day school serves indigent, at risk children in Jalgaon. Bhau Jain welcomed University of Nebraska-Lincoln's College of Education and Human Sciences into an ongoing relationship that provides UNL students with practical experiences and professional development through teaching and research at Anubhuti-2.
The primary relationship between Jain Irrigation and University of Nebraska institutions relates to Life Sciences, Agriculture and Water Resources. Bhau Jain also provided opportunities for University of Nebraska undergraduate students to spend time at Jain Hills in Jalgaon learning about resource management, agriculture and at the Gandhi Research Foundation he founded".
University of Nebraska (USA) has set new paradigms in education through their innovative educational programs over past 147 years. It is really a proud moment for India that Bhavarlalji, a son of Indian soil has been honoured by such a globally renowned university. He never spared any effort to brighten the future of Indian agriculture and Indian farmers. He always gave priority to the development of Indian farmers while making MOUs with international universities. Agriculture will surely prosper when if is supported by propagation of agricultural education. Jain Irrigation will always promote agricultural research by taking initiatives in collaborating with various international universities.