Jain Irrigation's 29th AGM held at Plastic Park Jalgaon.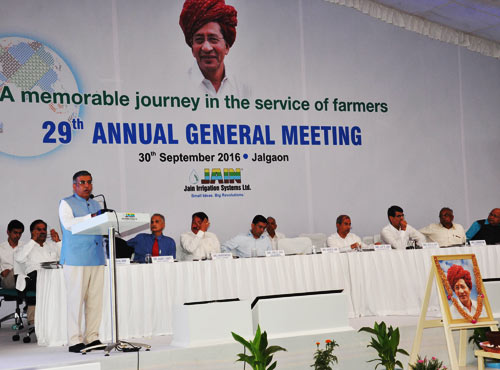 We will overcome all due challenges by following ideals of Bade Bhau: Ashok Jain
Directors and shareholders pay homage to Founder Shri Bhavarlalji Jain at 29th AGM, held in
30th Sep 2016, Jalgaon. The ideals laid down by Founder Bhavarlalji Jain of not making any adjustments to the ethical principles, hard work and honesty for the long term sustainable success, has taken Jain Irrigation from the capital of Rs 7000 to the turnover of Rs 6400 crores. Jain Irrigation will be able to overcome all challenges, Jain Irrigation Systems Ltd. Chairman Ashok Jain said while expressing tremendous confidence by following the path laid by Founder Bhavarlal Jain at 29th Annual General Meeting (AGM) of Jain Irrigation Systems Ltd which was held at JISL Plastic Park under the chairmanship of Ashok Jain. This was the first AGM held after passing away of late Founder Chairman Bhavarlal Jain. The Senior member of Jain Family Sevadas Dalubhau Jain, Director Vasant Warty, Dr H. P. Singh, and Ghanshyam Dass recalled fond memories of Founder Chairman Late Bhavarlalji (Bhau) Jain. Shareholders of Jain Irrigation, company associates, students of Anubhuti School and Raisoni Management Science College were present for the AGM.
Jain Irrigation Chairman Ashok Jain became sentimental while he was addressing first time at the AGM. He gave the reference of Bhavarlal Jain's earlier speeches at the last year's AGM. If we want to benefit the shareholders, we have to give benefit and preference to customer first. Bhau's sustainability thought was that the benefit of shareholders lies in the benefit of our customers. Bhau always followed this thought for the sustainable development. He was polite, disciplined and he worked very hard for providing sustainable solutions for ordinary, specifically for small landholders, agriculture, soil and global climate. He wanted to increase production and ultimately making them financially sound. "Leave this World better than you found it," was Pasaydan given by Bhavarlal Jain (Bhau), Ashokbhau Jain said while praising Bhau.
Bhau was Limitless Purushottam- Vasant Warty (Independent Director)
I came into contact with Bhau since 1993. I was fortunate to work as a Director of Jain Irrigation from the last 13 years, and. He had an all-round personality. He was all-rounder. He was enterprising, literary person, and hard-working. He practiced simple living and high thinking. He was a lover of nature and ecology and a principled person. He had empathy for poor people. He overcame all challenges that came in his life on the basis of his self-confidence. God Ramchandra was always referred to as 'Maryada Purushottam.' Bhau was famous for his limitless work. I call him as 'Limitless Purushottam.' He made farmers richer along with him. His memories will always remain. We would follow and complete all his dreams which will be a true homage to him, Jain Irrigation Director Vasant Warty said.
Bhau who made "Small Ideas Big Revolutions" – Dr H. P. Singh (Independent Director)
This AGM is the first AGM without Bhau's physical presence. Though he is not physically present, his soul is with us. I came into contact with him since 1988. I never saw a person who always thought of the ordinary farmers first. He had love and respect for the country, society and his family. He had excellent management skills. I met Bhau with Mr Chandrababu Naidu. At that time, Mr Naidu said that he had a son but he cannot manage him and Bhavralaji has a big family and is able to take together all of them, Mr Naidu praised management skills of Bhau.
Bhau was pioneer in drip irrigation in India – Ghanshyam Dass (Independent Director)
He was the person who had enormous amount of energy. He was an institution in himself. I experienced it first-hand. We bankers shake hands before we make any deal with other person. When I first shook hands with Bhau, I felt an energy flowing into me. His positive energy produced excellent work He pioneered drip irrigation in India. He was always there for the progress of farm and farmers.
Bhau had foresight: Sevadas Dalubhau Jain
I consider myself fortunate as I lived with him since his childhood. I was with him for 75 years. Bhau always worked for the entire humanity and ecology while increasing his business. He had curious mind and knew several languages very well and he had love for reading. Due to these qualities, he achieved so much in his business. He always worked and thought for others. He had excellent foresight. At Wakod, we had mango trees planted at a distance of 100 feet but he cultivated mango trees at Jain Hills very near to each other so mangoes can be plucked very easily. He used 18 inch concrete to build the roads. He thought that the roads had to exist for at least 100 years. He followed Mahatma Gandhi's principles. When he thought of building of Gandhi Research Foundation (GRF), he said it should be strong enough to withstand at least life of minimum 400 years. Jain Irrigation made significant progress due to his excellent foresight. He was a visionary of 21st century.
At the beginning of the AGM, homage was paid to those associates departed in the last year and soldiers who died at Uri terrorist attack. Present Directors lighted the traditional lamp and offered floral garland to the photo of Late Bhavralal Jain. One video clip of Bhavaralalji Jain's edited speeches in the AGMs of Jain Irrigation held since 1995 was shown to all. Jain Irrigation Joint Managing Director Atul Jain anchored the AGM proceedings and also proposed the vote of thanks.
Grandson puts resolution of Homage to Bhavarlaji Jain (Bhau)
Elder grand-son of Bhavarlalji Jain, Athang Anil Jain proposed the resolution paying homage to Bhavarlalji Jain. He paid a tribute to Bhau in his short speech. Vice-Chairman Anil Jain seconded the resolution.
Future will be excellent –Vic–Chairman / Managing Director Anil Jain
In the last financial year, Jain Irrigation achieved a net profit of Rs 49 crore but for the present financial year, Company's net profit increased to Rs 79 crore. The consolidated turnover of Jain Irrigation was Rs 6400 crore. This year the rain God has been kind to India and there is widespread rainfall in most parts of India. The future will be excellent for the Company, Managing Director Anil Jain said while expressing his confidence. He briefed the audience about the progress achieved by Micro-Irrigation, Pipe, Renewable Energy and food processing businesses. He proudly said that 15000 trucks( ie around 1 billion) mangoes were processed at Jain Irrigation's food processing park and "we are the largest mango processing company in the world.' Jain Irrigation would soon set up a project at Morshi near Nagpur for processing of mosambis and oranges. From 31st march 2016, Fruit Processing Division was given the subsidiary company status. The capital investment in this company and Jain Irrigation together was of Rs 800 crores. This reduced the interest cost of the Company by Rs 70 crore. So the coming future will be Bright for the Company, Anil Jain said.