Jain Irrigation wins APEDA Golden Trophy for outstanding export performance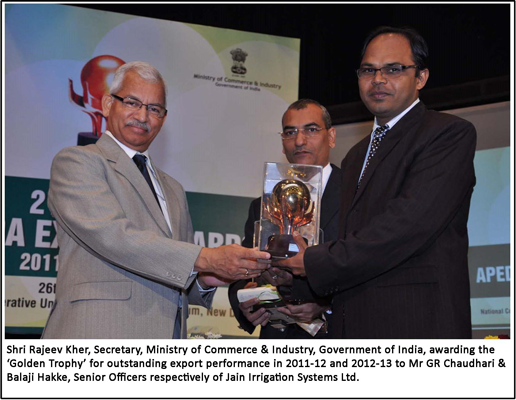 Jain Irrigation wins APEDA Golden Trophy for outstanding export performance
December 1, 2014 – Jain Irrigation Systems Ltd. has been awarded the Golden Trophy by APEDA (Agricultural and Processed Food Products Export Development Authority, Ministry of Commerce & Industry, Government of India), for outstanding export performance and contribution in the processed fruits and vegetable sector for the years 2011-12 and 2012-13.
Jain Irrigation's Food Division is the largest processor of fruits and vegetables in India, the third largest onion dehydrator in the world and the largest mango processor in the world.
The Food Division plays an extremely important role in the company's unique business model of integrated farming.Jain Irrigation provides high-tech agri inputs to farmers, buys back the surplus produce from them and adds value and sells the same in domestic and international markets.
The Company's Food Division works on a self sustaining model and is carbon neutral. Further, it has zero liquid and solid effluent discharge.All the plants are certified for Food Safety Management Systems recognized by the Global Food Safety Initiative.
The Company's exports stood at Rs.293.78 crore and Rs.289.76 crore for the years 2011-12 and 2012-13 respectively.
The award was presented by Rajeev Kher, Secretary, Department of Commerce, Ministry of Commerce & Industry, Government of india, at a function held in New Delhi on 26th November, 2014.Mr GR Chaudhari & Balaji Hakke, Senior Officers respectively of Jain Irrigation Systems Limited received the award on behalf of the company.
Mr Santosh Sarangi, Chairman, APEDA and Representatives from various corporate houses were also present at this event.